--------------------------------------------------------------------------
Current AI Behavior

Showing data...

-Responsible
-Competent
-Smart
-Twisted
-Neutral
-Serious
-Conceited
-Competitive
-Curious
-Strategist
-Egoistical
-Full of energy
-Inspired
-Often childish
-Bad Singer

Current Physical/Mental Status

Showing data...

-All systems are working perfectly fine. No anomalies detected.

Function

Showing data...

-Power plant supply/maintenance robot


-------------------------------------------------------------------------

Elec Man is a difficult boss to beat. He runs fast around the room, often stopping to shoot a single Thunder Beam, and less often shooting one when jumping. The Thunder Beam is very dangerous, as it cuts Mega Man's health for about a third of his maximum HP. However, the beam can be avoided if jumped over it with good timing. His weakness is the Rolling Cutter, which takes him out in three hits, however it is a short range weapon and should be carefully used against him.




Elec Man is one of the two most prominently featured robots from the original game, along with Cut Man. Acting as the "big brother" of the Light family, he has a very no-nonsense serious personality, though he is shown to have moments of childishness in secret. Throughout the manga, he is slashed in the chest twice. First by Mega Man in "The Birth of Mega Man" with a Rolling Cutter, and again by Quick Man's giant Quick Boomerang in "R Destruction Order".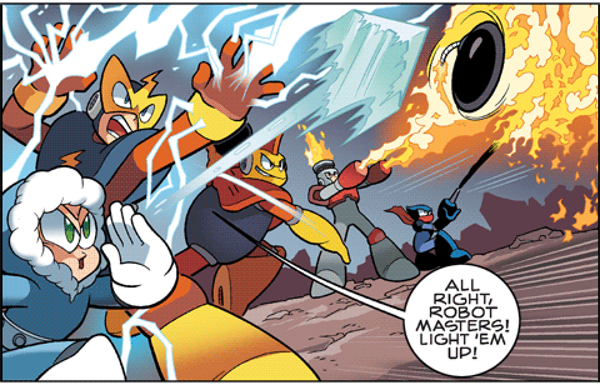 Trivia: Elec Man is Keiji Inafune's favorite Robot Master from the first game, because he was the first robot he ever designed.

Elec Man bears a resemblance to the 1973 Kyodai Hero character Thunder Mask. Both are robots who use electricity in their abilities as well.

Elec Man is incorrectly called Electric Man in the instruction manual from Mega Man: Dr. Wily's Revenge.

Elec Man is one of the few Robot Masters in the series with the distinction of having the same color and thickness of forearms as the upper arms.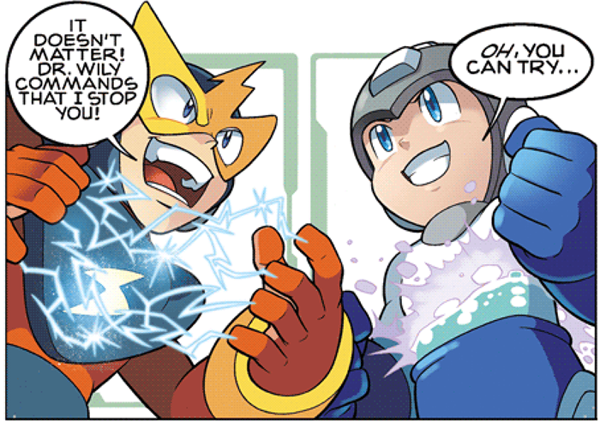 In Mega Man Powered Up, Elec Man has a very confident, theatrical personality, often speaking highly of himself and his skills. In addition to this, many of his poses are references to the traditional Japanese genre of tokusatsu.

Elec Man shouts "Thunder Bolt!" in Mega Man Powered Up just before unleashing his special attack. However, his special attack is more similar to the Lightning Bolt. To make it even more confusing his Thunder Beam looks more like a Thunder Bolt in Powered Up.

Elec Man's level theme sounds very similar to "Faithfully" by Journey.

In Mega Man 2: The Power Fighters Elec Man uses an attack he calls Force Field which is similar to the Force Field weapon Mega Man gets off Volt Man in Mega Man for the PC.

The thunderbolt on his mask is inverted in his Mega Man 3 mugshot and RockBoard card.

The reason for Elec Man's dislike of rubber products is due to how electricity cannot flow freely on rubber, which instead acts as an insulator and the same thing can be said about why he is weak to Oil Slider.

-------------------------------------------------------
Other RP accounts:







(Another account... Six already... Someone pls stop me...

)